Barely There
This is the SpareParts Pete freestyle packer – packing strap in other words (yummy) by Spare Parts HardWear. I have been pacing the floor for almost a week now (due to the weekend) just for this "little" number and I mean little. I knew when I found this hot little number (purely by accident), while browsing my favorite adult online store. I knew that I had to have this for my boyfriend, a gift for him to remember me by while he worked.
This is nothing more than soft, silky smooth underwear with a wicked twist (no material covering the ass), reminding me of a jock strap, just with a remarkably soft crotch. These are enhancers for the male "membrane" the sizes range from S up to XL. I bought a medium for my boyfriend, and the comfort that these give him is rather remarkable, due to him having a rather remarkable "package" of his own rite, and I'd just hate to give him any kind of discomfort. The first time he tried them on they didn't stay on long after he modeled them for me. The next time he tried them (I took my time) giving myself over to pleasure by teasing and torturing him. As I worshiped his body with my hands, rubbing my cheeks, tough, and gently biting him through his soft, supple material covering his ever so growing signs of anticipation of what would soon come (several more times).
No matter if your significant other has a small or large package in his pants, this would make a great gift, not only does enhance what you do have but there are instructions in the package that gives you instructions on how to manipulate them to make you have a larger appearance. Speaking of appearance; to keep them looking as good as new you can wash with cold water, no harsh soaps, bleach, and dry separately (best to air dry), without fabric softeners (it'll totally destroy them). This I would recommend to anyone wanting to be daring yet comfortable at the same time, guaranteed no underwear lines in even the tightest of jeans. This product was provided free of charge to the reviewer. This and other remarkable products can be bought at http://www.edenfantasys.com/. Why pay more when you can cut out the middle man and save some money? Also get an added 15% off your entire order by using my code TEZ. This product was provided free of charge to the reviewer. This review is in compliance with the FTC guidelines.

Ups and Downs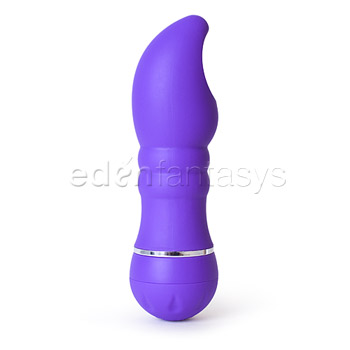 These and rather large
personal massager
; whose
measurements are: 4 3/4 inches long (without the base attached) and 6 inches with it on, with an insert able length of 3 inches (which is 4 inches since you now have a base), it just depends on the users' mood at the time. It also measures 5 1/2 inches round, and the each weigh little over 4 ounces.
As you can see, they come in two beautiful colors both purple and pink. It is rather large in girth and a little long in length for a "discreet massager". It has quite a velvety feel to be made of a hard plastic; there is no smell or weird taste. As for the shape, it has two thick circular bumps going around it for added sensation. Also there's an odd scoop design in the tip of it reminding me of an ice cream dipper Which fits perfectly over the clit for clitoral stimulation (granted) for it to get you off you'll more than likely need some help, either from a partner or by another toy in your arsenal.
These little beauties do have a lustful appetite of their own for double A batteries (batteries not included) that you put in at the bottom part of the vibrator. In order to get the bottom off to insert batteries, you need to twist to open and close (lefty Loosy, righty Tighty) it make sure that it's snug in case you want to play in the tub or shower also take the batteries out of the unit to help them work longer. For other speeds, all you do is twist the dial on the base where you put the batteries in. When you
finish
using the Zia you clean it with warm water and soap or a toy cleaner.
I was unsure what to think when I first say it and its size; and when I decided to try it out, I really did not like the fact that it was so big in my hand. I was constantly moving my hand to get a better fit, but it did fit my clit perfectly in the scoop at the top of the Zia. The Zia is almost very silent as I was running her, although (she is a battery
guzzler
). I inserted my Zia vaginally and it was a tight fit somewhat uncomfortable for me. After a few minutes though I started relaxing I just laid perfectly still in my dark room. Then I started feeling
the Zia start moving on its own (not in and out) but turning on its own
and my vaginal muscles started to contract, I could literally feel my muscles reacting to the Zia, which was a very hot.
Overall, I am glad I went ahead and got my Zia! She has her down side but then, her good side really makes up for it.
This and other remarkable products are available for purchase at

http://www.edenfantasys.com/

. Why pay more? When you can simply cut out the middle-man and save some money.. Also, get an added 15% off your entire order by using my code TEZ.
This product was provided free of charge to the reviewer. This review is in compliance with the
FTC guidelines
.